Welcome on Board: Insights to manage and boost the energy of your Board of Directors
A topic that particular attention has been focused on in recent years here in Italy (but also abroad) is the relationship between nonprofit governance and issues related to development. It is part of a process of awareness on the broader theme of sustainability, and consequently on fundraising, which has different maturation times and cultural characteristics from country to country.

I say this looking back at my experience and how I started to work on the governance of non-profit organisations that I collaborate with.
My first job in fundraising was at an important university in Italy. I was involved, among other things, in the alumni association. I had a couple years of experience in corporate fundraising with major donors, and had just finished attending a Master's program in fundraising at the University of Bologna.

Among the objectives of my work with the alumni association was to revitalise it – it was very prestigious until the end of the 1960s, then it had lost its influence and the rector wanted to start again with a solid association, with an updated mission based on the sense of belonging that former students felt towards the university.

"My" Board consisted almost entirely of former students, some university professors and some (very few, in fact) external members.

I did all my homework well: Starting with the mission, I crafted a vision consistent with the times, and ended up analysing the association's database, which needed updating and, in particular, repopulation.

What better opportunity to involve all the Board members to map out the association's constituency? Everyone was so excited about this "new" alumni association and full of development-oriented ideas. And I was right there with them, certain that we would do a great job together.

So, I gave them my beautiful data sheets to map their contacts, explaining why and how to use them. It was a fundamental step to achieve the goals we had defined.

Then I took back the sheets and told them to feel free to integrate them later as well, when perhaps they had come up with some additional contacts.

And I went back to my office. Where I discovered, in fact, that the total number of names collected was … 2. Yes, just two, without even an email or an address. Only two names and two surnames.

Angry and let down, I tried to figure out what had happened. But I had been so sure, I had gone back to my Master's manuals and books on fundraising and had followed all the steps.

I was trying to understand the reason for a similar failure from such a dedicated group of people – enthusiastic about being part of such a prestigious association, eager to make themselves available to younger alumni and to put into practice that "giving back" sentiment that seemed to drive their commitment as board members.

And so? Where was the process jammed up? What had caused the enthusiasm to fall so miserably?
I kept thinking about it on the train on the way home, trying to go over my professional experience of the first 7 years of my career, when I was in charge of human resources, organisational analysis, and staff training.

And I remembered something that had been useful to me throughout that experience and after: when I needed to make difficult proposals, or that I knew would be met with doubts and difficulties, I tried to focus on the final goal by explaining the impact that I expected would be produced by that decision and, above all, I prepared for the discussion by putting myself in the shoes of those who would listen — explaining, arguing, providing supporting arguments, and not taking for granted that my mental process was the same as that of the listener.

It wasn't always easy, but at least there was a discussion on how to arrive at an agreement.

Well, could that have been the missing link? The one that brought an enthusiastic and motivated group to disengage?

They had seemed like actively involved people, so it felt too simplistic to label them "a board of directors that doesn't work".

There was something else, something missing.

In the following days, I came to understand everything more clearly, and the errors of assessment that I had made were clear to me.

First of all: I had taken for granted that, since it was a Board of a non-profit organisation and all the directors spoke nonchalantly about non-profits, everyone already knew what fundraising was.
Thinking about it, I don't know why I took this point for granted, which is always a delicate one — how many misunderstandings do we face every day, each in their own reality, about what fundraising really is? And why didn't I think that one of my tasks was to let them know about my work before asking them to help me do it? How could I have assumed that they would quickly understand that I would not bother — and neither would they — their friends and acquaintances and that the relational mapping served to define the prospective funders to start a relationship with?

This point was so obvious that I hadn't even seen it!

And here's a first suggestion: before assuming that "the Board does not cooperate" let's try to figure out the reasons.

Are you sure they know what you expect from them? That they're so knowledgeable about fundraising that they understand the difference between that and just "asking anyone for money"? Because if there's even one chance that it's like that… well, there's a simple and effective remedy: educate them.
I don't mean to hold a complete training course on fundraising (or maybe do, it depends on your situation) but, more simply, training on how to work together on specific topics. Small workshops with clear objectives, in which you make your board members work in a simple, even funny or creative way.

Personally, I often organise these trainings in sessions of 2-3 hours, preparing a short set of questions on which I need clear feedback (this is the complex point because it requires, on the part of those preparing the training, clear ideas and an overall vision). I differentiate the individual answers from those to work on in small groups, then I prepare post-its, markers and panels to pin the feedback on, creating a sort of "panel of commitments" (or whatever the subject of the workshop is).
It works, in my experience. It brings the group together, to understand that fundraising, a word that sometimes frightens or creates embarrassment, is actually quite simple, linked to the passion for a cause and the desire to move projects forward.

It's an empirical and effective way to bypass the fear of fundraising. There are others, but this is the one I usually use with Boards that find it harder to get behind development on a concrete level.
That's not all, actually. But the entire ordeal wasn't just a reflection on the board, it was also a reflection on me. I had put myself forward in a professional way, and had felt a sense of personal disappointment, as if they had done me a wrong in not believing what I asked them to do was necessary.

This is a very sensitive point on which, in recent years, I am trying to raise awareness among fellow fundraisers and consultants, especially younger ones.

At the time, I was much younger than my Board members: I was the only one who had competence in fundraising, but the Board had felt entitled not only not to "follow me" but, even more unpleasant, not even to ask me the reason for my request. I would have explained, argued, brought my reasons, but no question was asked.

Thinking over it during the next few days, one point kept coming back to mind: I wanted to find a solution to the sense that fundraising is something anyone can do, which results in the value of my skills not being recognised.

That first experience really helped me to define some basic traits behind my way of interpreting the profession, and even though — alas — youth is no longer something that concerns me personally, I think it's important to raise awareness among fundraisers on this theme.

Are we sure, that is to say, that a Board unwilling to follow isn't motivated by a certain sense of defeatism?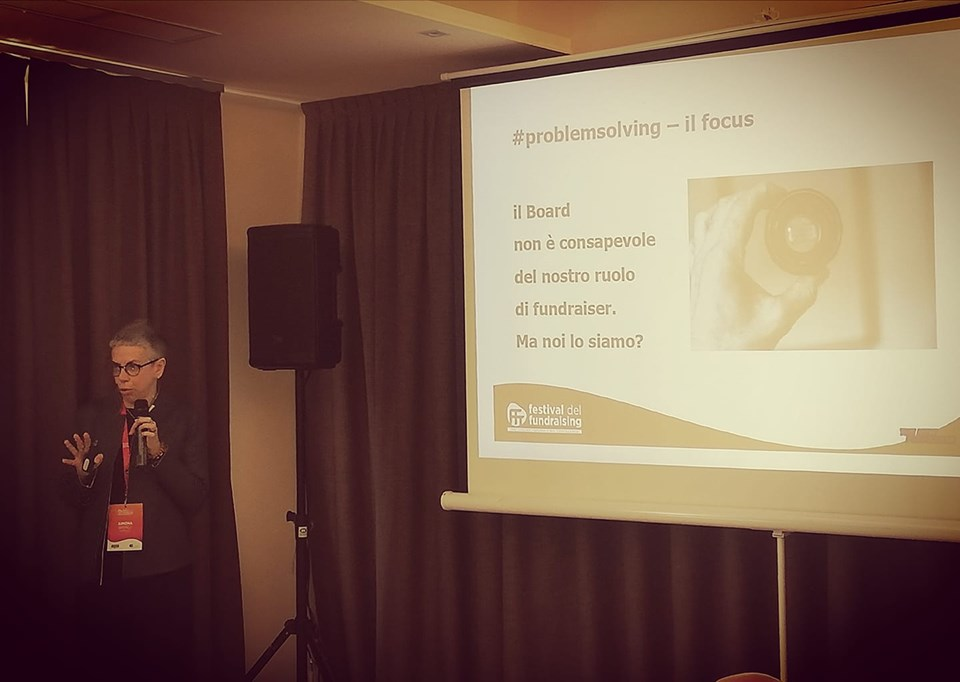 What you see in the picture is a shot taken from the session I held at the Fundraising Festival, in mid-May, on governance and fundraising. And the slide you see shows precisely: "Our Board of Directors is not aware of our role as fundraisers. But are we aware of that?"

Because, to tell the truth, often what I see are very good fundraisers who abdicate their role.

I believe one of the tasks of a fundraiser is to get the Board "on board", and to do so you need to be accredited from the point of view of the skills related to the role. We need to let the Board know what fundraising is, what our daily work in the office is, what the objectives of the fundraising plan we work on every day are, and to reach them we ask for data and information from other offices, contacts and reports to the Board, support to the administration office and so on.

In one organisation I worked with two years ago on the development of the endowment strategy, one of the critical issues was the interaction between the fundraising office (made up of 7 well-trained, motivated, passionate people) and the Board of Directors and the rest of the organisation. These people were perceived merely as those who find the money (which is only part of the picture), and do nothing but ask for data, photos, reports from the field, and testimonials.
To boost the office's energy, I needed the endowment campaign to have an impact within the organisation before it could ever have an impact outside of it. How often do we tell ourselves that we need to hire our organisations (and our Board) before we hire donors?

I thought, then, beyond the focus groups that we had already conducted, to propose a very simple thing that proved to be very effective – it's incredible how things that seem easy can be the real solution!

I asked the fundraising office to organise (this was in October) a presentation of the following year's fundraising plan, first to the Board and then to the rest of the organisation. To talk to colleagues, in short, about what processes are behind the scenes of receiving money from donations. This discussion involves "engaging" our audience: we worked together on a beautiful, colourful presentation, made up of the objectives and results achieved, of emotions for the messages received from donors, the experiences of the project beneficiaries, and even the disappointments, since they do exist, and the anger and the never-ending adjustments that need to be made throughout the activity.

They were so excited, the fundraisers, to introduce themselves for the first time to their colleagues, to explain their work, so much so that one of the difficult things in the preparation was just finding the words to communicate it. My suggestion was: find your words, the ones that work for you.

And they worked with the others too: over the course of an hour, numbers, stories, emotions, connections, stubbornness and tenacity had all come spilling out.

In short, the work that they did and we do had come to light. And it was a success. The most repeated phrase was "I didn't think", "I wouldn't have imagined", "what a beautiful thing you do!" … and we're talking about an organisation that has been well known and active for half a century! All it took was a presentation, and the commitment I asked them to carry out every year, once a year, to make the Board and the other departments understand the reason for the requests, in order to have a shared idea of what's really behind fundraising.

When communication is clear and has a clear objective, it works. But it's nothing without the awareness of those who implement it. What emerged was a Board that interacts with the fundraisers, who in turn interact with the Board asking for and "demanding" answers, support, and active involvement. Because, if the Board members serve the cause so passionately and involved, and the fundraisers serve the cause so passionately and involved, what's the reason behind the distance that often characterises the relationship between governance and fundraising?

It's a question that should be posed to the Board but, in my opinion, even more so to us fundraisers. We can't consider ourselves any less crucial for strategic development than the Board is for the future of the organisation.