Optimize Facebook in 2013: five learnings
Collecting Facebook pagelikes must not be your key objective any longer. In 2013, your focus should be on improving the interaction with your Fanbase. In this blog we'll introduce IPP, an effective KPI to monitor and improve the interactivity of your Facebook page. And we'll share 5 key learnings we derived from extensive analysis of different Facebook pages. For illustration, in this article we'll use (with their permission) the Dutch Facebook page of Doctors without Borders.
1. From page fans to interaction
The number of fans on your Facebook page isn't important as it used to be. Facebook's Edgerank mechanism ensures that it is not automatic that your content shows up in the news overview of your fans. The interactivity of your content is becoming more important.
Analysis of the interaction
There are several ways to measure the interaction on a Facebook page. Disadvantage of commonly used indicators, like IPM (interactions per mille) is that in it's calculation, the number of fans is taken into account. So, when you have recruited many not-active fans in the past (from for example a like-&-win campaign), your IPM score stays more or less static for a long(er) period of time. Moreover, IPM score is based on a period of 30 days, which also makes the IPM score a rather static number.
Alternative: Interaction Per Post (IPP)
An alternative way to measure the interaction is to calculate the interaction per post (IPP). With the IPP you simply look at the average number of likes, comments and shares per posted item. Since the IPP is not taking into account the number of Facebook fans it means you start focusing on the quality of the post (and not on the numbers of fans). Extra benefit of this is that you can analyse your Facebook page on different levels. The IPP can be calculated per month/week/day and per time period, weekday or content type.
Number of fans and the IPP per week of the Facebook page of Doctors without Borders.
2. Content: customized instead of universal guidelines
There are no universal set of guidelines for the best content or content type. What might work very well for one brand, can easily fail for the other. Therefore, learn from the results of the content that you've posted in the recent past. Analyze which posts were most successful in 2012 (i.e. have high IPP-scores) and investigate why these achieved the highest interaction (watch out for sponsored posts). Tip: there are tools where you can also look at the IPP scores of your competitors, so it's easy to learn from them too.
Facebook posts from Doctors without Borders with the highest interaction in 2012.
3.  Use the right content type: pictures, videos, links or text
Determine what content type you have been able to achieve the highest level of interaction. In general, posts with pictures and videos receive more interaction than when only using text. Do you want to post a link to (for example) an article on your website? Never forget an attractive and related picture (size: 520×520) and put the link in the text. This way, your post has more impact and increases the chance of interaction. And, we've found out that you'd better upload your movies to Facebook instead of redirecting to Youtube. Analyzing Doctors without Borders, we noticed the posted video's created the highes amount of interaction, even though only 2% of content type was video. Their personal learning: experiment with more video (and monitor IPP to see it your IPP improves).
Content on the Facebook page of Doctors without Borders: the number of posts and the IPP per content type in 2012.
4. Time: Experiment with outside office hours and in the weekend
Experiment with different time slots outside office hours. Most people work from Monday until Friday from 9.00  to 17.00. Messages on Facebook are being posted during these time frames in general. When your organisation is mainly focussing on young adults and students, office hours might just work fine. But if you want to connect with people with a job, it might be worthwhile to post messages outside office hours and during the weekends. Tip: Run some tests for yourself for a couple of months and discover if changing time frames has an impact on the interaction.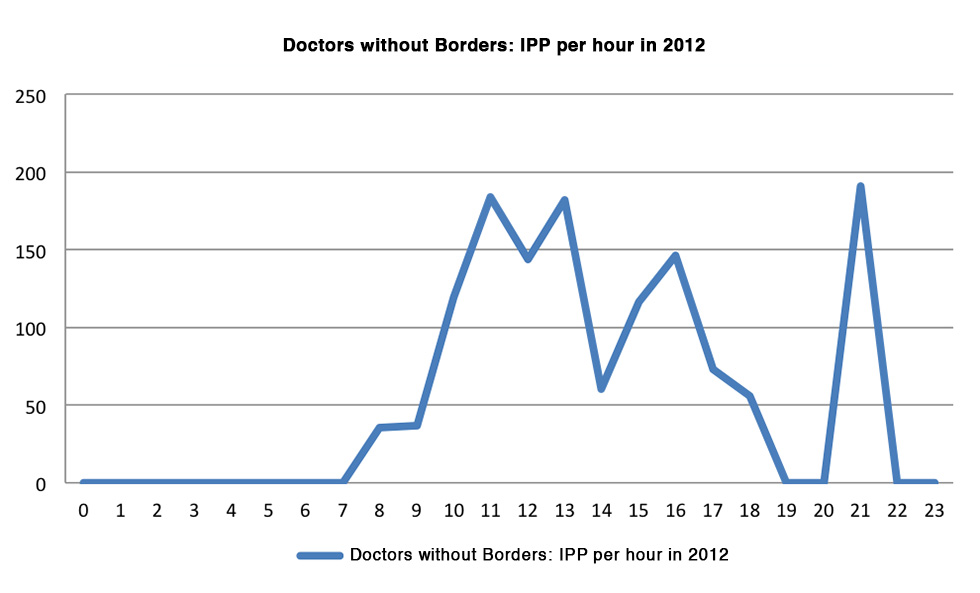 5. Know your super users
Do you know who's responsible for the highest interaction with your Facebook page in 2012, or your top 20-50-100? Get the picture your super users  and compare them with the image you have of your (ideal) Facebook fans. In order to create good content it is very necessary to know with whom you are communicating. And if you want to dig even deeper into the lives of your super users, why not inviting them personally for a face to face meeting?
Finally
Make sure that you monitor the results of your Facebook page on a regular basis. We've noticed that Facebook standard statistics are not enough to optimize your Facebook presence and IPP is not (yet) main stream in professional reporting tools. We like IPP as a measure that can actually increase the interactivity of your Facebook page. And we are very curious if IPP works for you too. There's a beta-version of a simple IPP calculator online at www.cervinosocial.com, so you can play with it for yourself. We are very interested in your opinion about this tool and IPP as a measuring tool. Let us know!