17 fundraising lessons learned from completing a triathlon
Over the past two years, I have met two personal goals: I participated in my first triathlon and my first Spartan Race (an obstacle course challenge event).
While I tell people to not mistake my enthusiasm for any sort of skill, I did reach my goals of A) not drowning, B) not falling, and C) not stopping.
Anyway, I always wondered what would be going through my mind during these endurance races since I was always a sprinter as a youth.
Aside from the lyrics from the Battle Hymn of the Republic​, what filled my head was the following analogies of how Spartan Races and triathlons compare to fundraising (yes, these were loosely composed during the races to keep me sane).
Here are my 17 fundraising lessons learned from completing a triathlon and a Spartan Race.
9 Ways a Triathlon is like Fundraising
1. You gotta start sometime
I have been wanting to run a triathlon for 25 years, but "life" got in the way… Many nonprofits want to start fundraising or want to be more successful in their fundraising but just have never made that next step. The plan keeps getting shelved.
2. It takes a change in culture to succeed
I lost 30 pounds in the 12 months leading up to the triathlon by changing my habits. Nonprofit organisations need a dedicated, directed, and intentional fundraising plan.
3. Know your fundraising disciplines
Triathlons involve three distinct disciplines: I had to train in the basic movement exercises of swimming, biking, and running.
For most nonprofits, the trifecta of fundraising includes individual giving, legacy giving, and major donor giving, and these basic efforts form a strong foundation to build a fundraising programme.
4. You need modest goals to start
My goal was not to be the best, it was to simply succeed by finishing. No one expects everything to be perfect the first go-round, they just need to try, see what happens, adjust for the future, try again, and keep improving.
5. With time comes improvement
12 months prior to the triathlon I couldn't even run ¼ a mile without stopping. Take the time to look how far you've come with your fundraising efforts and use that to inspire you to future greatness.
6. Don't get sidetracked
It is easy to get sidetracked and swim or bike off the course. How many nonprofit leaders don't have fires to extinguish every day? Hence why we advocate for paid fundraising staff with a dedicated focus on fundraising.
7. Don't simply copy other campaigns
Drafting is bad. Following behind someone too close on the biking section would result in penalties.
Nonprofits should never embark on their fundraising efforts half-heartedly and simply mimic what others do. Instead, they should take the best practices and apply them to their own, unique situation.
8. Accept that change happens
The event was going to happen, come rain or shine: you should have seen the dark clouds for the race area on my weather app. Nonprofits need to understand that systematic fundraising is no longer an option, so fundraisers need to adapt now before the change overtakes them.
9. The rewards are out there
While exhausting, I can't wait to do it again. It's the same with fundraising: with success comes more success, so keep on going with your fundraising activity.
8 Things I Learned while Running in a Spartan Race
1. Just like fundraising, you need a friend or mentor
My friend, Randy, helped me over a few obstacles, like most of the ​Walls​, and I helped him with the ​Hercules Hoist​.
Fundraising staffers need someone to test ideas, proof drafts, etc. and cannot operate for long in solitary confinement. Allow your staff to attend conferences, interact, and network with peers.
2. Sometimes you have to do things differently and learn from others
On the ​Barbed Wire Crawl​ I found it difficult to get low enough to clear the barbs, so I mimicked others my size that found success with a barrel roll.
In nonprofits, the standard is to borrow from others and copy what is working.
3. Capture data and learn from your mistakes
I didn't complete everything; there were 22 obstacles and 4.4 miles of running involved and I couldn't do at least four of the challenges and had to do the penalty for each, 30 ​burpees​.
Sometimes fundraising staff can't get everything done in time or correctly. However, with good data, you will know what to work on for the next time.
4. Once you start, don't stop
We had to carry a​ large bucket full of rocks​ uphill over 100 yards and return back (see my picture). Some of the "young guns" stopped half-way, and put their buckets down. However, they had an even harder time picking the buckets back up and re-starting their efforts.
Same with fundraising; you will never get where you want to go by stopping with every bump in the road. We need to keep on, keeping-on.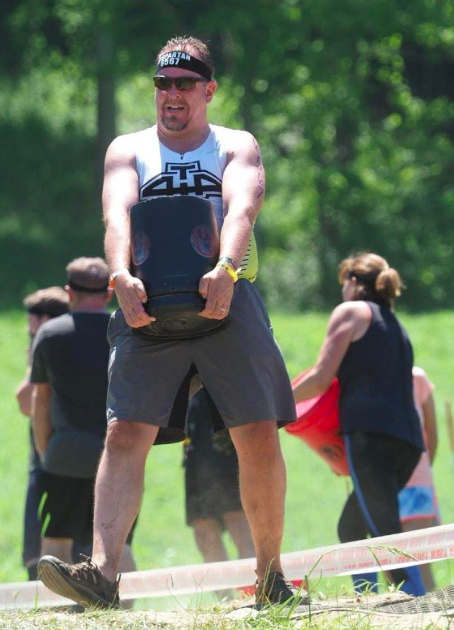 5. Sometimes you have to do things your way
With the ​Spear Throw​, the volunteer was showing participants how to do it, but it wasn't working for most. I threw a different way and succeeded. ​
Tom Ahern​, the guru on donor communications, notes that "If your board doesn't like your appeal letter, you are probably doing it right." You hired the fundraising staff to fundraise, so let them do it their way!
6. You have to know your limits
I knew I couldn't do the​ Rope Climb​, so I took the penalty and moved on to the next obstacle. Nonprofit fundraising = limited resources. You need to focus on what works and where your strengths are.
7. Try to enjoy the tough times
Sometimes, you will get dirty and have to ​roll in the mud​. So you might as well smile and enjoy it.
8. Don't forget to celebrate
At the end, after completing your task, it's OK to have a bit of fun like the ​Fire Jump​. Celebrate, take the picture, and look forward to the next challenge.