A Privileged, Middle-Aged, White, Male Has Views on Diversity
I'm not even sure I should be doing this. And that's part of the problem. You see, while it's not at all hard for me to talk about diversity and inclusion, I do find it is hard to do so without getting the odd sneery comment about virtue signalling. Obviously, it's time to get over my snowflake sensitivities, and talk about stuff that matters.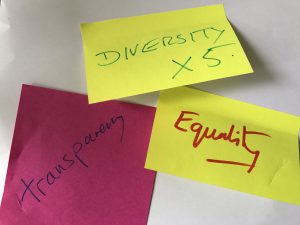 Recently Stephen George asked people (in the rather wonderful Facebook Fundraising Chat Group) for examples of their best and worst interactions with their boss. A lot of the comments feature bosses who were denigrating, abusive, bullying etc towards female colleagues. It was clear that these bosses were not all male, yet many examples seemed indicative of a male-dominated culture.
And that's just not acceptable. I believe strongly that we need to be morally better at, well, just about everything. I've now been in too many brainstorms about organisational values that see a flip chart pockmarked with the words diversity, equality, opportunity. What is the point of having values that exist only as post-its on a flip chart?
Values without action are a ridiculous vanity exercise. And I fear we pay a huge amount of mere lip service to issues of equality and diversity in a sector that should be living, breathing and singing these values in all we do.
Maybe it's just too easy to bandy these values around when you have never experienced what lack of equality feels like, or lack of opportunity? Or you've never felt what it's like to be a victim of racism. And that's where diversity is so important. Diversity is too often seen by the powerful as giving something away. It seems to me that diversity, or should I say inclusion, is actually about what you gain. It is about enrichment, and about better decision-making based on a better informed view of the world.
Change is never easy is it? But it can happen in simple ways. Over the past few years I've been lucky enough to work with the Resource Alliance around their great IFC events in The Netherlands and, now, in Asia. This year in The Netherlands there will be more female speakers than male for the first time. Now, that's no cause for self-congratulatory back-slapping. Gender Representing Half of Humanity Fills Half of Speaker Slots at Conference sounds like a satirical headline from The Onion.
But it's still a good thing. And it's not an accident. It has been achieved by having rigorous KPIs: target numbers for repeat speakers, first-time speakers, gender diversity, and every other kind of diversity too. The result is an event that is enriched and offers more enriched perspectives to its participants.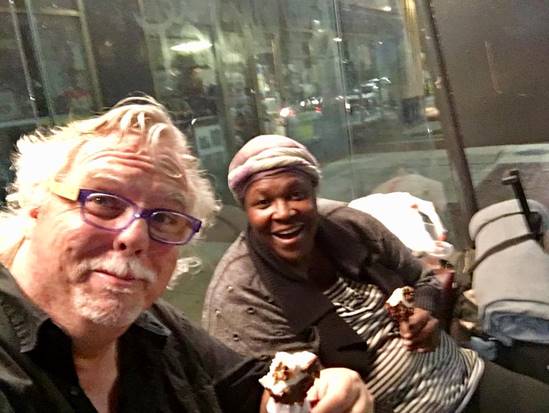 Another example: My friend Mark Horvath runs an amazing organisation in the US called InvisiblePeople. He creates change by enabling homeless people to tell their stories. Unfiltered. It's amazing stuff. While people gather for brainstorms and stick up ever more post-it notes carrying words like transparency and authenticity, Mark has got on with sharing transparent and authentic stories for 10 years!
Mark also rails against the fact that hardly any homeless service organisations listen to homeless people when they are devising strategies and services. The very people who need services, who know what works and what doesn't, are so often excluded from the conversation. This marginalisation isn't just anti the values of the sector, it means we are missing out on the opportunity to enrich and improve the conversation and the solution.
The point here isn't about homeless people. It's about The Entitled making decisions on behalf of people who are marginalised.
What does this mean for you, for your cause, or the causes you work with?